Web Design
Let's make your buisness shine online with a beautiful website
A website you'll be proud of
By now, all businesses are expected to have a website. And not just any website. A website that looks good. Your website reflects your business, and I'm here to make sure your clients and future clients get the best impression possible when visiting yours.
I specialize in WordPress websites. As opposed to traditional websites, WordPress websites don't require you to know any coding to make them work. This means you can take over the website without having to learn any code. Sounds good, right?
Mobile-friendly design (responsive design)
Sign-up form/pop-up to your newsletter
Firewall and safety software
Basic training on how to use your website
Help to find pictures and write text
Design guide / colour palette
Social Media sharing tools
Video guides on how to update and back up the website
Take a look at some of my work
These are some of the websites I've made. They are all made using the Divi theme, which is the theme I use for all my clients.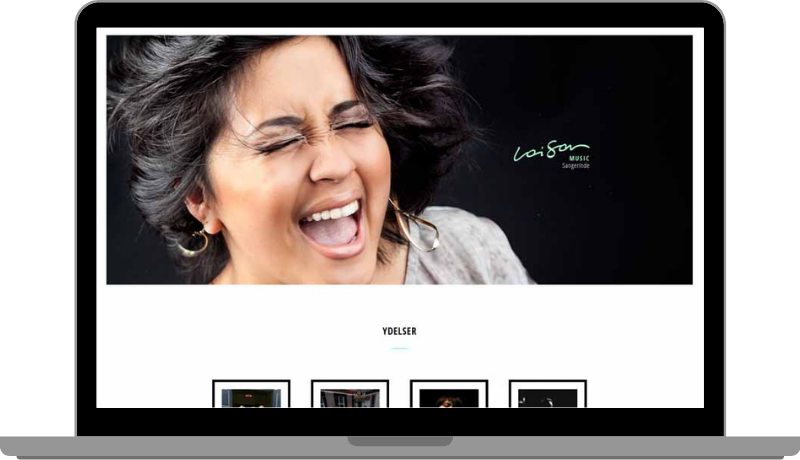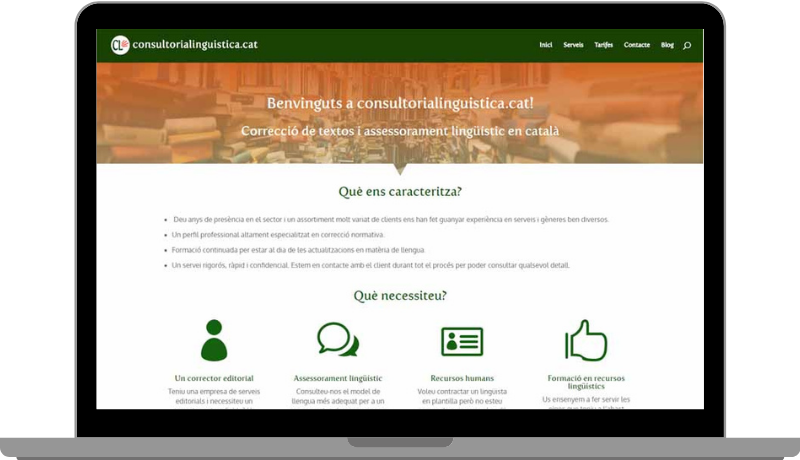 Proof-reader
Consultoria Lingüística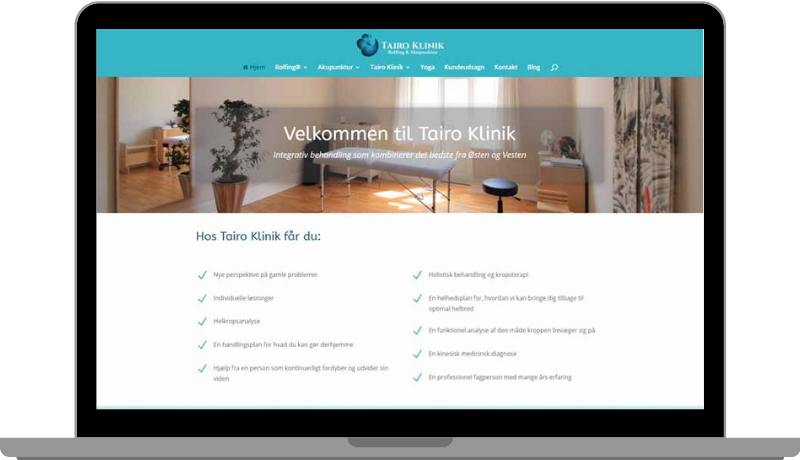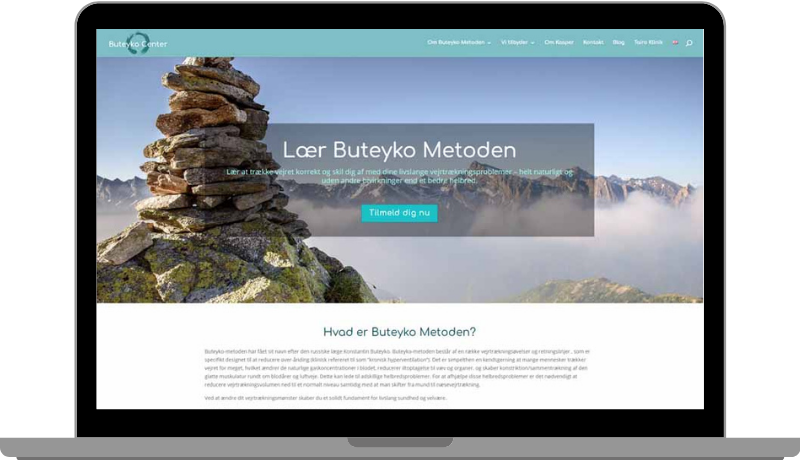 Breath clinic
Buteyko Center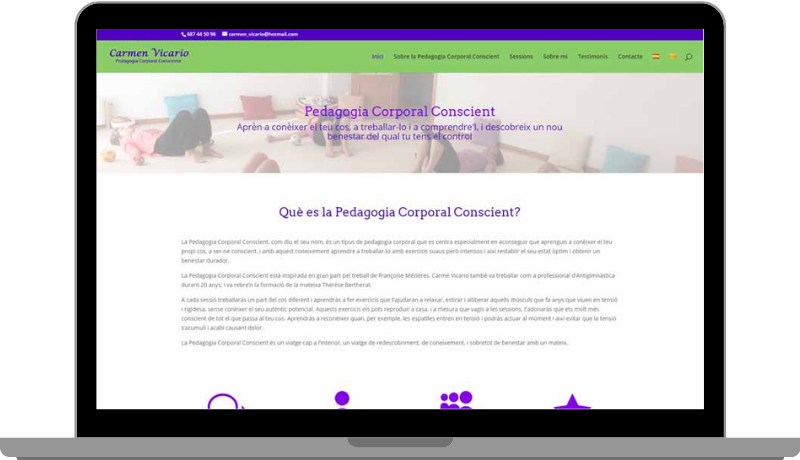 Body therapist
Carmen Vicairo
You don't need to know anything about websites to do this. That's why you have me! I'll be with you through every single step, and I will let you know what I need from you and when. And don't worry, no website-nerdy words involved. All you need to do to get started is get in touch.
Preparation
First I need to get a good picture of who you are and what your circumstances are: What is the goal of the website? Who is your target audience? Who are your competitors? What kind of websites do you like? What is your vision for this project?
This is also when we agree on what content (text and images) are needed to create the website. We will agree on whether you provide everything, or if you need help finding images and writing text, I'll guide you on how to go about it.
We will also create a site map, where we agree on how many pages the website will have, and how it will be structured.
Choosing the perfect style
Now that I know more about you, I will suggest a few design guides for you to choose from. The design guide will consist on a colour palette (the colours the website will stick to) and a combination of fonts for the text (typically one for headlines and one for plain text). Once we have agreed on the best design guide for you, we'll be ready to move on to building the website.
*If you already have a design guide for your brand, I will of course use that.
Creating the website
Here's where I take all we've talked about and agreed on and put it together to create a beautiful website for you. Once everything is ready, we will have an online meeting where I will walk you through the website. You can then give me feedback using a very easy-to-use tool I have, and I'll proceed to make the necessary changes. You get two revisions included in the price.
Testing and launch of the website
Once you're happy with the design of your new website, it's time to test e-v-e-r-y-t-h-i-n-g to make sure it all works as it should. I'll test all the links, and I'll make sure the website looks great on different browsers and devices. Once everything is perfect, it will go live and you'll be able to show it to everyone 😉
How long does it take to get a website?
It usually takes around 2 weeks from the date I've received all the necessary content from you, but the time can vary depending on the size and complexity of the project.
Can I choose my own WordPress theme?
Sorry, but no. I am aware there are some great themes out there, but I can assure you that I work only with Divi for a reason. This theme is extremely flexible, and the possibilities almost endless.
One of the advantages of Divi is also that it is so popular that it's really easy to find help and tutorials online, in case you want to try editing the website yourself once it's done.
Do you take care of GDPR for me?
No. I am not a lawyer, and can't provide you with GDPR-proof policies or cookie-settings. I recommend that you contact a specialist that can help you with this. 
A way to avoid cookie consent banners is to not use third-party services that involve cookies (like Google or Facebook tools like Google Analytics or Facebook Pixel), but that is of course up to you.
What I can do for you is put up the privacy policy and cookie policy that you provide, but you have to write those yourself (or get a lawyer to do it).
Can I really manage the website without you after we're done?
You can easily edit or add text, images, and create new blog posts on your own. The website is built with the Divi theme, which is a very popular theme with lots of tutorials online. There are also a few Facebook groups for Divi theme users, where you can ask questions.
When I transfer the website to you, I will teach you the basics, so that you have an idea of how everything works.
This being said, I recommend that you don't do many changes to the website if you're not sure what you're doing. The result may not be pretty, and then you'll have to buy extra hours for me to fix it.
The easiest solution is to join a Maintenance Plan, which means I'll update and back-up your website regularly, and you get a quick change (15 min) to the website included every month.
Is hosting included in the price?
Hosting and domain costs are not included in the price. If you don't have hosting yet, I can recommend some hosting providers to you.
Do I own the finished website?
Yes. Once I've received the whole payment, the website is completely yours.
Can you help me maintain and update the website?
Sure can! You have two options:
You can purchase a Time Package Deal with time you can allocate to maintenance, updates, or whatever you need done on the website.
You can subscribe to a Maintenance Plan, which means I regularly update, maintain, and back up your website without you even having to think about it.
Do you create all types of websites?
No, I don't. I specialize in information websites. If what you need is a more complex website like a webshop, a membership site, etc., I'm not the right person for the job.
How much does it cost?
The price of a website depends on many things, and therefore I don't have a flat price, but most of my websites cost between 5,000 and 10,000 DKK.
What affects the price?
The number of pages
The amount of content that goes in the pages (text, images, etc.)
How much help you need producing the content for the website
Amount of languages available
How tailored it is
Advanced functions
The delivery deadline
Etc.
To get a personalized offer, get in touch with me, and tell me more about your project.
Let's Start a Conversation