Online Marketing
I'll help you create a strong online presence that will increase your sales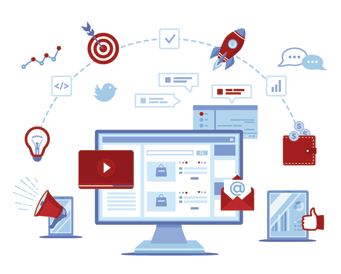 The new online marketing
Online Marketing is not what it used to be. Thankfully, long gone are the days of extremely salesy pages and ads. Online Marketing has evolved into something that is all about a good user experience. About connecting with your customers and potential customers in a meaningful way. And hey, it works! After all, would you rather buy from a random salesman or someone you have a connection to?
Do you want to reach more people and turn them into happy clients?
You landed in the right place. Building relationships online takes time, and I know you'd rather use your precious time running your business. So leave the Online Marketing to me, so that you can focus on the rest. I can either take over completely, or support you by creating a content strategy and consolidifying your online identity.
Online marketing has many facets that when combined produce the best results. That being said, you don't need to focus on everything to get good results, and not all aproaches may be relevant for your business. We will discuss your specific case and I'll explain what makes the most sense for your current situation, and what online marketing could look in the long run.
I can help you with:
Social Media
I specialize in content and ads for Facebook and Instagram.
Email Marketing
This is the surest way to reach your clients. We'll make sure every email counts.
Content Marketing
I write content that attracts customers to your business in a natural way.
Landing Pages
Focused marketing with one goal: conversion.
Strategy
Let's find the right step-by-step approach for you.
SEO
The right words in the right place to make sure Google finds your website and shows it to potential clients.
Content that matches your brand and vision
Design guide / colour palette
Help to find pictures and write text
Inspiration for new content
You don't need to know anything about Online Marketing to get started. That's why you have me! Whether you're just getting started with Online Marketing or you're all set up with your platforms, we'll take it from where you're most comfortable and work from there.
The Foundations
First I need to get a good picture of who you are and what your circumstances are: What do you want to accomplish with online marketing? Who is your target audience? Who are your competitors? What kind of content have you been sharing so far (if any)? What is your vision for this project?
I want to sound just like you would if you were doing this yourself, so that your clients won't even notice it isn't you posting/writing.
We will also discuss what online media platforms make the most sense for your type of business.
The Strategy
Now that I know more about you, I will suggest a few design guides for you to choose from. These will be used going forward to give your brand a consistent look (this means sticking to certain colours and fonts). Next, I'll create a content strategy for your business, taking into account how many hours you want to put into it, what will be the most cost-effective content for your particular case, and what the long-term plan looks like for your online marketing.
*If you already have a design guide for your brand, we will of course use that.
Creating Content
We have two possibilities here: If you want to write your own content, at this point I'll provide you with some templates you can draw inspiration from, and I'll give you feedback for an agreed period of time.
If you want to leave online marketing to me, based on the content strategy from the previous step, I will create content (or run ads, send emails… whatever we agree on) for you on a regular basis. This will be charged monthly, and the fee will depend on the number of hours that I need to create your content.
Testing and Optimization
Online marketing is all about testing and optimizing, and once we have released content to your audience (organic or paid), I will take care to track its performance and make changes as needed in order to optimize the performance. If you're the one creating content, I will show you where you can track performance yourself.
How many hours of online marketing do I need per month?
This depends very much on your goals and on how many platforms we're working on at once. If you just want help with your Facebook, that will of course require fewer hours than adding email marketing, content marketing or Instagram to the mix. To get an estimate, get in touch with me and let me know what you have in mind.
Do you also work with Linkedin / Snapchat / TikTok / Twitter / Youtube?
No. I believe you really get good at something when you specialize. If you're looking for help with those platforms, I recommend you find someone who specializes in them.
Will you provide graphics for me?
If you have your own marketing material, I will use that or take it as the starting point to create more templates. If you're starting from scratch, I recommend you get some professional photos taken of you and your business/products. You're responsible for having the right to use all the material you provide me.
I can also show you how to get stock photos, or get some for you.
Can you promise I will rank #1 on Google?
No. Your Google ranking depends on many factors that are outside of my control. We can optimize your website content so it's as Google-friendly as possible and I can provide strategies that will help you improve your ranking, but I can't guarantee a specific ranking position (nobody can).
I don't have Facebook / Instagram / Email Marketing Platform. Can you set it up for me?
Getting on Social Media is very simple, even if you've never tried it before. I can show you how to do it, or do it for you.
Will I need to spend a lot of money on ads?
This depends on how ambitious your goals are, how much competition there is for your niche, etc., but the idea is always that the money you may spend on ads will bring in enough money to cover for the cost, and more.
Depending on the size of your business, you can get pretty far with just 50 DKK a day.
Do I need to have a website?
You don't need a website to benefit from online marketing, but I'd recommend that you have one, or at least some sort of landing page when you can lead your potential customers and get them to sign up for your mailing list. Don't worry, if you have none of that, I can guide you on how to set it up, or build a website for you. 
How much does it cost?
The total price for my services depends on the amount of work needed in each case. Please get in touch to get a personalised offer.
What affects the price?
The number of platforms we're working on
How often we agree to post content on Social Media
The complexity of the content I provide (a blog post takes longer than a Facebook post, for example)
If you provide graphics or I have to create them myself
How much support you need from me
 Keep in mind that if we use ads, you'll have to pay for those at the side, as ad fees aren't included in the price.
To get a personalized offer, get in touch with me, and tell me more about your project.
Let's Start a Conversation